Bailey Leads Purdue Northwest on Day 1 at TPC Deere Run Invite
Freshman Lauren Bailey led the way for the Purdue University Northwest women's golf team on Day 1 of the TPC Deere Run Invitational at the Midwest Collegiate Championships Monday.
Kelly Grassel is just like any typical college student. Except, she spent her childhood on the golf course. Except, she was a high school state tournament golfer. Except, she is now a Division-1 college athlete. Except, she is on her way to becoming a professional golfer. This "normal" girl found her passion on the golf course at Sand Creek Country Club and returns to her roots to practice her swing whenever she can.
SOFTBALL: PNW Splits with Aquinas; Payne Has Big Offensive Day
Kyleigh Payne saved her sixth home run of the season for a clutch moment in Friday's nightcap, when her two-run swing tied the game against visiting Aquinas (Mich.) College in a two-game split for the Purdue University Northwest softball team. Payne (Bourbonnais, Ill./Bishop McNamara) belted a two-run shot over the center field fence in the bottom of the seventh inning of Game 2 to tie the game at 3-all and send it into the eighth, where both teams would score a run before the game was called a 4-4 tie due to darkness.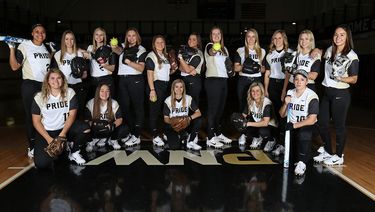 The Purdue University Northwest softball team's originally scheduled home Saturday games with Chicagoland Collegiate Athletic Conference opponent Saint Ambrose University have been rescheduled due to inclement weather.
Fifteen seniors and 15 underclass boys basketball players have earned IBCA/Subway "Supreme 15" All-State honors for 2016-17, it was announced Thursday (March 23).
McDonald's golden arches saw a sea of orange today as the West Side girl's basketball team gathered in Gary on Thursday to celebrate the success of their former teammate, Dana Evans.
PNW Softball Drops Doubleheader to Cornersttone Tuesday
The Purdue University Northwest softball team dropped two decisions to Cornerstone University Tuesday afternoon.
A new roller hockey league in Portage is bringing Roller Hockey back to Northwest Indiana. Teams that feature colorful names like The Majestic Unicorns, StoneCutters, Iceholes, and The Muricans meet twice a week at Portage's Inline Sportsplex to face off and have some fun.
Lauren Bailey Leads PNW Women's Golf in Final Day of SVSU Invite
The Purdue University Northwest women's golf team shot a 362 in the final round of the Saginaw Valley State University Spring Invitational Sunday, finishing with a two-day team score of 758.
The Duneland Athletic Conference boys basketball All-Conference Teams were named this week, with 1st-place Crown Point Bulldogs' Sasha Stefanovic taking top honors as the Conference's MVP for the 2016-2017 season.
PNW Softball Defeats Huntington in Extra Innings; Captures Win over Dickinson State Wednesday
The Purdue University Northwest softball team defeated Dickinson State, 10-8 in today's opening game, before using a ninth-inning comeback performance to defeat Huntington University, 8-7.