Valerie Gonzalez didn't give much thought initially to the fact her diploma failed to arrive in her home mailbox after she had participated in Purdue University Calumet Commencement Exercises back in the spring of 1999.
Now you can ride your bike to work from the train station! The South Shore Line's (SSL) Bikes on Trains program is now being offered on two morning and evening rush-hour weekday trains in addition to select weekend trains. Bike cars will be available on select weekend/holiday and select weekday trains from April through October.
Porter County Aging and Community Services is launching a new season of its ramp program.
The agency is seeking Porter County individuals who need assistance accessing their homes due to mobility issues. Renters must have permission from the homeowner to have a ramp installed.
Porter County Recycling and Waste Reduction will help Porter County residents safely dispose of their old pesticides, gasoline, fluorescent light bulbs and other products that contain corrosive, toxic, ignitable or reactive ingredients at six household hazardous waste collection events this year.
It is not enough to go through school with perfect grades anymore. Yes, those A's look great on paper, but it now as important as ever to be able to tell your future employer, 'I have experience.'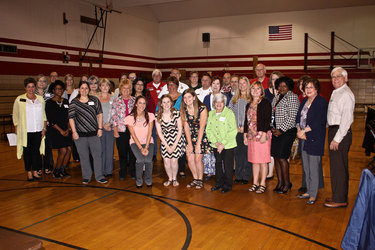 Portage Township Schools will be hosting the Reality Store for Willowcreek Middle School on Thursday, May 11th and Fegely Middle School on Thursday, May 18th. Business and community volunteers are extremely important to this program. Volunteers will assist students as they learn how to live within their means while enjoying their chosen career.
All Girl Scouts now can register for the annual Valparaiso/Washington Twp. Area Girl Scout Day Camp. "Zoom into Nature" is the theme for this summer's Girl Scout Day Camp at Butternut Springs June 12-16, 2017.
On Friday night, the Portage High School Thespians Drama Club held its annual Variety Show in the school's auditorium. This performance featured over 30 acts of singers, dancers, poets, and bands. It certainly lived up to the audience's expectations, but to also its historic reputation.
Mayor Thomas M. McDermott, Jr. announces the 2017 award winners at the Mayor's Commission on Disabilities 31st Annual Awards Breakfast and Resource Fair which took place this morning at the Dynasty Banquet Hall.
Indiana University Northwest Chancellor William J. Lowe, and the campus's One Book … One Campus … One Community… Reading Initiative, recently introduced a packed auditorium to two family members of Henrietta Lacks, a woman whose cells were taken without her knowledge in the 1950s. Her story, chronicled in "The Immortal Life of Henrietta Lacks" by Rebecca Skloot, sparked an ongoing bioethical and racial debate. Veronica Robinson and Shirley Lacks, the great-granddaughter and daughter-in-law of Henrietta Lacks, discussed Henrietta's legacy as the origin of many breakthroughs in medicine, as well as the family's struggle with the ethics of how her cells were acquired.
Do you feel stuck? Do you need a better job? Is your second language English? Do you want to go to college or get specific job training? Do you dream of becoming a U.S. Citizen? If you answered yes to any of these questions, NEO Adult Education can help.