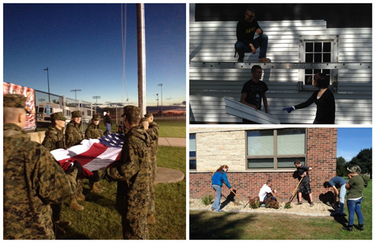 MCJROTC Weekly Good News
Cadets from Portage High School Marine Corps JROTC assist with landscaping at St. Peter Lutheran Church in Portage on 10 October 2015.
Seventeen Purdue University North Central students have been selected as recipients of a new scholarship program funded by the Northwest Indiana McDonald's Operators (NIMO).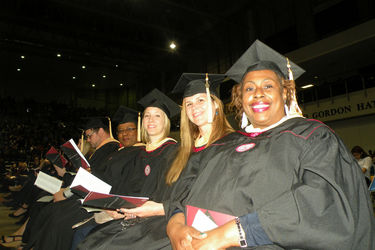 Military veterans and those in active duty live a different life than those who are not in the Armed Forces. It is a profession where duty to country and to protect those who live in it is a 24/7 job.
Early this year, the National Science Foundation (NSF) awarded Indiana University Northwest with more than $600,000 to jumpstart the effort of attracting more students into science, technology and mathematics disciplines. The University is now inviting applications for scholarships to incoming freshmen and two-year college graduates pursuing science, technology and math.
A Purdue University North Central staff member recently earned a scholarship presented by the Midwest Association of Higher Education Facilities Officers.
The Indiana University Northwest Alumni Association (IUNAA) and the Offices of Alumni Relations and Student Activities are proud to announce the campus's Homecoming celebration on Saturday, Nov. 7.
Purdue University North Central has been named a National Association of Intercollegiate Athletics (NAIA) Champions of Character institution for the 2014-15 academic year. PNC has earned the award every year since the award's inception in 2002.
PHS Microsoft Academy
Portage Microsoft Academy once again nailed their Microsoft Office Word certification tests. Hard work pays off.
Aylesworth Elementary
5th and 1st Graders Work Together
This week at Aylesworth, Mrs. Niebel's fifth grade students had an awesome time working with Mrs. Beach's first graders. The buddies created an imaginative Leaf Man tale!
Our students learn technical skills and workplace skills like working together, being punctual, polite, and considerate. They also learn how to develop a resume, and how to search and apply for a job. The curriculum also includes practicing job interviewing skills.
A plan to unify academic organizations of the emerging Purdue University Northwest into six colleges was approved on Friday (Oct. 9) by the Purdue University Board of Trustees.
More Education Articles: