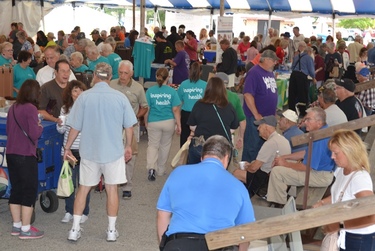 More than 500 attendees were on hand for the 15th annual Franciscan Health-sponsored Senior Citizens Day at the Lake County Fair Aug. 7. The program, in the Senior-Showcase Tent, offered information regarding the Accountable Care Organization, Franciscan Senior Promise, Franciscan Senior Health and Wellness, Franciscan Insurance Services, outpatient services, stroke awareness and palliative care.
Come visit Rittenhouse Village At Portage. Experience why Rittenhouse Village is such a big "Hit." Schedule a tour of our community between Sunday, June 11th and Saturday, June 17th to receive a pair of Gary South Shore Railcat's Baseball Tickets.
Roy Miller is the new resident on the block at Symphony of Dyer. He moved to the facility in early 2016 and began settling down in his new home.
A century in the making, Ellen Magerl celebrated her 100th birthday with family and friends April 24 at Hartsfield Village Continuing Care Retirement Community. On hand for the celebration are (left to right) Joan Garritson, Kurt Garritson, Liz Magerl and Jim Ogura.
Education is the movement from darkness to light, according to philosopher Allan Bloom. It is designed to become more aware and to grow in knowledge.
The 17th Annual Portage Senior Health Fair welcomed seniors citizens from around the Northwest Indiana to Woodland Park. The annual health fair brings hundreds of people and vendors together for free health screenings, valuable information about health and wellness, and fun events for everyone to enjoy.
Playful pups from the Humane Society of the Calumet Area are a welcome sight for patients and residents at Hartsfield Village Rehabilitation Center. Recently, Shelter Director Todd Howard brought a couple of frisky dogs to brighten the seniors' day.
To the sound of gentle live harp music, people from Bonner Senior Center, and Maria Reiner Senior Center gathered at Rittenhouse Village Portage to enjoy a meal of corned beef and cabbage for a great cause.
When you have the information, you have the responsibility to share it. That is how Angela Boland views the services offered by the Symphony of Chesterton: To educate the community and provide the support and benefits they are entitled to.
In recognition of the 2017 Cardiac Rehabilitation Week, Feb. 12 to 18, Jim Campagna and Margaret Hansen were crowned the "King and Queen of Hearts" during a special celebration at St. Mary Medical Center. Both Campagna and Hansen are active members of the hospital's cardiopulmonary rehabilitation program.
If you were to ask the average joe "What are the chances of there being a twelve foot Alligator in Chesterton Indiana?" He would probably say " Slim to none!". But guess again! Last Friday at symphony of Chesterton there was a twelve foot Alligator, Albino Python, Tortoise and Iguana visiting the residents, guests and staff at Symphony!