Valerie Gonzalez didn't give much thought initially to the fact her diploma failed to arrive in her home mailbox after she had participated in Purdue University Calumet Commencement Exercises back in the spring of 1999.
It is not enough to go through school with perfect grades anymore. Yes, those A's look great on paper, but it now as important as ever to be able to tell your future employer, 'I have experience.'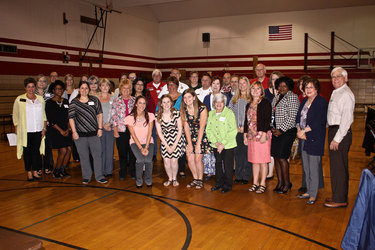 Portage Township Schools will be hosting the Reality Store for Willowcreek Middle School on Thursday, May 11th and Fegely Middle School on Thursday, May 18th. Business and community volunteers are extremely important to this program. Volunteers will assist students as they learn how to live within their means while enjoying their chosen career.
On Friday night, the Portage High School Thespians Drama Club held its annual Variety Show in the school's auditorium. This performance featured over 30 acts of singers, dancers, poets, and bands. It certainly lived up to the audience's expectations, but to also its historic reputation.
Indiana University Northwest Chancellor William J. Lowe, and the campus's One Book … One Campus … One Community… Reading Initiative, recently introduced a packed auditorium to two family members of Henrietta Lacks, a woman whose cells were taken without her knowledge in the 1950s. Her story, chronicled in "The Immortal Life of Henrietta Lacks" by Rebecca Skloot, sparked an ongoing bioethical and racial debate. Veronica Robinson and Shirley Lacks, the great-granddaughter and daughter-in-law of Henrietta Lacks, discussed Henrietta's legacy as the origin of many breakthroughs in medicine, as well as the family's struggle with the ethics of how her cells were acquired.
Do you feel stuck? Do you need a better job? Is your second language English? Do you want to go to college or get specific job training? Do you dream of becoming a U.S. Citizen? If you answered yes to any of these questions, NEO Adult Education can help.
Aylesworth Elementary
Lilly in Mrs. Morris' 4th grade class is their class artist. "Today I gave her the task of completing our class art project for Black History Month. We're a bit late getting it done, but better late than never."
The Friends of Portage Township Foundation are excited to announce that the tickets for the June 2017-May 2018 drawings are now available for purchase for $20 each.
This year's 8th Grade Duneland Reality Store introduced a new class of students into a decades-old tradition of immersive learning and community collaboration. Each student followed their own GPA-based career path through an adult finances simulation. It's a fun way to see what life may be like for students a decade after high school.
Watch competitors battle in our Craft Skill Competitions, take a tour of the training center, visit vendor displays, meet elected officials, enjoy refreshments and much more!
Indiana University Northwest 's Lean Six Sigma (LSS) intermediate- and expert–level certifications are now available to business professionals in Northwest Indiana. Enrollees need not be IU Northwest students to take advantage of this coveted certification program.