Judy Steel enjoys working with things that are considered "elderly." As an assisted living home worker and an avid antique-store shopper, Steel surrounds herself with people and things with a history, and things with a story.
Jessica Tharpe, a nurse who has been with Franciscan Health Michigan City for 16 years on the medical-surgical-oncology unit, is the first winner of the hospital's new, monthly DAISY Award for Extraordinary Nurses.
1st Source Bank takes pride in their efforts to drive small business development and grow local economies through a streamlined lending process that has had significant impact since its implementation in 2014.
St. Catherine Hospital CEO Leo Correa has received top honors from the Southlake Hispanic Chamber of Commerce for lifelong leadership and a distinguished career.
Tracey Knapp has been named Vice President of the La Porte Physician Network and Porter Physician Group – the combined multispecialty medical group in Northwest Indiana encompassing more than 130 providers spanning seven counties.
There is no definite way to be a strong woman. A strong woman can be one of any background, creed, and profession; a woman who is unapologetically herself every day. So, Thursday night, women from all over Northwest Indiana came together for Ideas In Motion Media's "All About The Girls Part 3" to celebrate strength and show support for the women who work hard and help make other's lives better all around the Region.
St. Mary Medical Center honored the service of its auxiliary volunteers Monday, April 17, at the annual Volunteer Awards Luncheon. Held at Avalon Manor, the event brought together healthcare administrators and staff with auxiliary and board members to acknowledge service milestones for 64 volunteers whose combined number of hours totaled approximately 150,000.
During May, NWI Innovators of the Month shines the spotlight on new Society Members – Sheena Marrell; Mark Mabrito, Ph.D.; Pam Wheelock; and Kathy Sipple. Highlighted below is Sheena Marrell and her son Richard, the first mother and son team in The Society. Also featured is Dr. Mark Mabrito, Ph.D., Purdue University Northwest. All are being celebrated as part of the 2016 – 2017 Class of Innovators, the largest group inducted into The Society of Innovators. The Society is part of Ivy Tech's Gerald I. Lamkin Innovation & Entrepreneurship Center for Excellence. For information, contact O'Merrial Butchee, Director, Lamkin Center at (219) 981-4942, or John Davies, Managing Director, Society of Innovators at (219) 981-1111, 2292.
Jimmy Cameron, a commercial technician for Overhead Door of Northwest Indiana, was born in Crete, Illinois, but has lived in Crown Point since he was 20 years old. He has been with the company since 2004 and been working ever since with customers to fix and repair garage doors.
As a member of the Team Chevy sales staff, Dave Volk has been selling cars with the Valparaiso-based auto dealer for over thirteen years. Volk does, however, have many more years beyond his time with Team Chevy working with automobiles.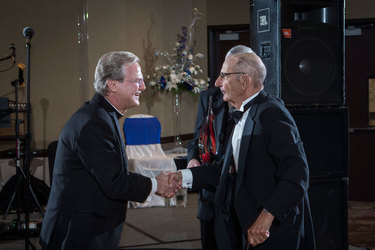 Joseph E. Costanza, an East Chicago native and St. Catherine Hospital board member has been honored by Calumet College of St. Joseph for distinguished service to the community. The St. Joseph the Worker Award recipient was announced during the 52nd annual Trustee's Scholarship Ball held at the Center for Visual and Performing Arts in Munster.