Scams and identity theft are everywhere - are you prepared to watch for the warning signs and avoid trouble? Do you know what to do if you're a victim of identity theft?
April Fool's Day is a time for pranks and silliness, but this Auto Loan Special from REGIONAL is NO JOKE!
REGIONAL believes that the best time to learn financial responsibility is while young. Our award-winning Student Credit Union program helps young people learn vital money-management skills, while also giving them a convenient way to deposit and withdraw from their savings accounts right at school.
REGIONAL currently sponsors ten student credit union branches in Northwest Indiana:
How many unsolicited phone calls do you get every day?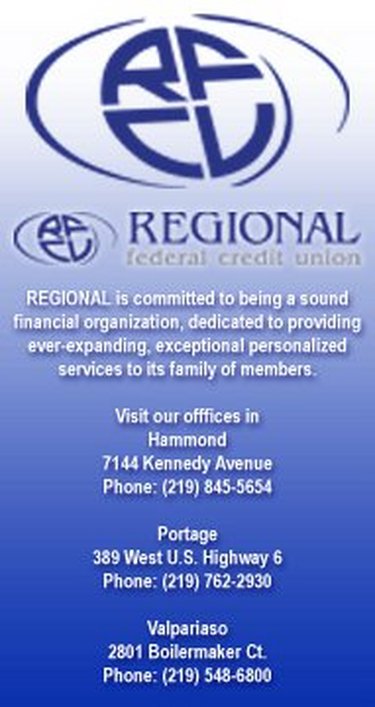 The National Credit Union Administration has received reports of an online phishing scam that uses a website with a logo and a design similar to the agency's own site in an attempt to convince unwary customers to provide information or send money.
REGIONAL Auto Loans
In the market for a new or new-to-you vehicle? We're ready to help you get on the road to lower rates and flexible terms. Whether you're buying new or used, you can enjoy benefits including:
How many unsolicited phone calls do you get every day?
Debt Consolidation Loans as low as 6.49% APR*
Do yourself - and your wallet - a favor this year, with a Debt Consolidation Loan from REGIONAL!
Combine your higher-interest credit cards and loans into one monthly payment, with rates as low as 6.49% APR*. Debt Consolidation Loans are available up to $20,000 for up to 60 months. Do yourself a solid - apply for a Debt Consolidation Loan today!
"Identity Theft" is a term that covers a broad range of crimes, from high-tech phishing attacks to dumpster-diving for personal documents. Attend this FREE educational seminar and learn how to protect your personal information, and what to do if you are a victim.
You've been nice: Holiday Auto Loans and Personal Loans are here!
You've been good all year. Don't you deserve something special?
How about a great rate on an Auto Loan? Right now at REGIONAL, we've got rates as low as 1.95% APR* for new, used or refinance.